Fri. 1.12. 8 p.m: Sing-along evening
at TrIQ e.V.
Gürtelstr. 35, 10247 Berlin
Back house, 5th floor, elevator is available, but only partially barrier-free, inquiries to frizu@gmx.de
S/U Frankfurter Allee
www.transinterqueer.org
hosted by Malu Förschl
An event by TrIQ e.V. in cooperation with the Frizu Lounge
A music evening without a stage!
Everyone can be active and sing along. Sitting quietly and listening is also possible 😉
The program includes international rock and pop classics, but also some songs from West and East Germany. Lyric sheets for the selected songs are available. Drinks and a nice atmosphere are also provided.
TrIQ e.V. and the Frizu Lounge look forward to seeing you!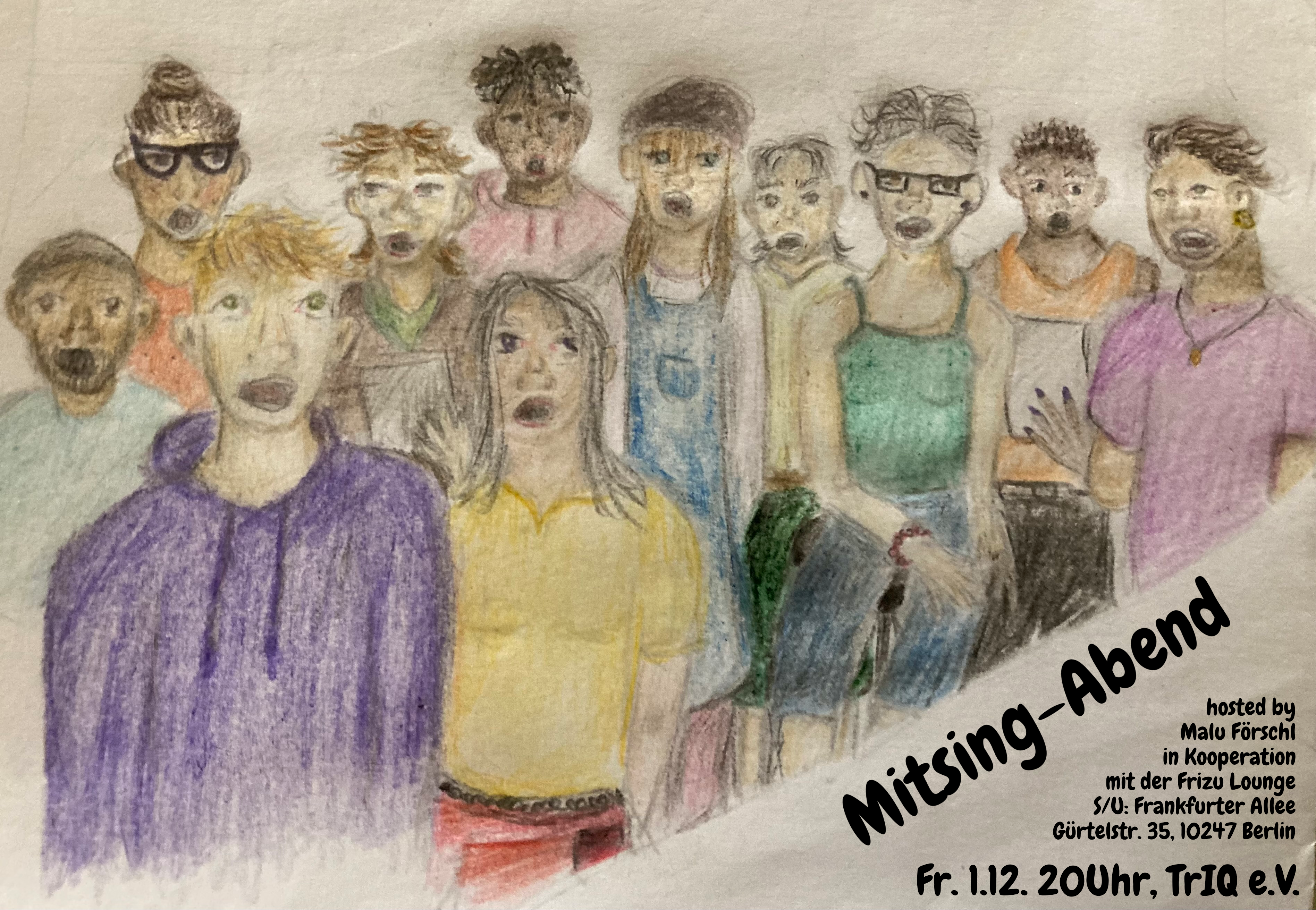 Saturday 13th of January 2024: Workshop-Tag
12:00 Uhr: SINGING_LOUNGE
13:00 Uhr: IMPRO_TREFF
14:00 Uhr: RAUM_MUSIK
15:00 Uhr: SONG_WRITING
16:00 Uhr: BLOCKFLÖTEN_INFERNO
Kosten (costs): 10 – 20 Euro für Einzelworkshop (single workshop) , 40 – 80 Euro für gesamten Tag (whole day)
Nähere Infos und Anmeldung (More informationen and inscription): 030-34764918, 0176-20332076, frizu@gmx.de
Saturday 13th of January 2024, 5pm: SESSION for everyone
With advance registration! Please register at least 3 day in advance.
Saturday 13th of January 2024,, 6pm: SESSION for women * and queers
With advance registration! Please register at least 3 days in advance.
Wedneysday 21st of June 2023 – Fete de la Musique – Tempelhofer Feld
Frizu Lounge @ Stadtacker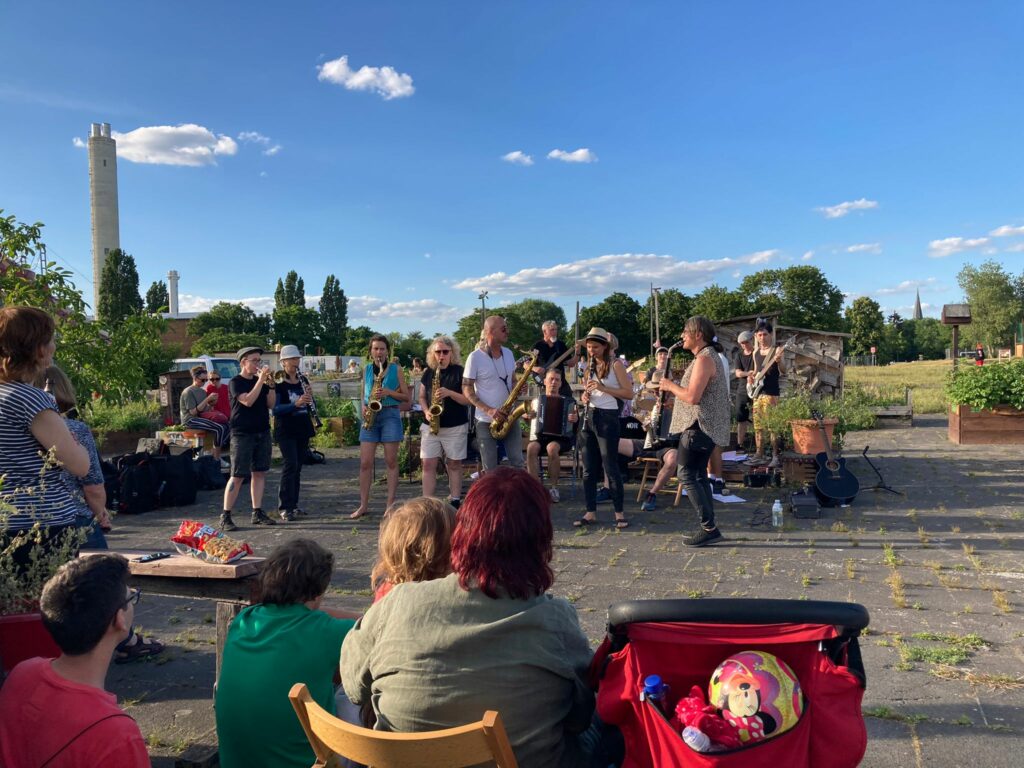 this is how it was last year at Tempelhofer Feld:
Another Brick in the Wall
Seven Nation Army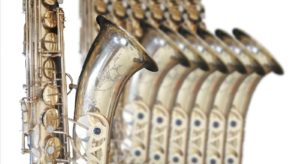 Intense groups under construction (Appointments by arrangement):
IMPROVISATION FOR CLASSICS for everyone
IMPROVISATION FOR CLASSICS for women * and queers
SAXOPHONE_POOL for everyone
SAXOPHONE_POOL for women * and queers
URBAN BRASS for everyone
URBAN BRASS for women * and queers
EX_PERI_MENT – group for improvisation
PROJEKT_BAND for all beginners
PROJEKT_BAND for female* and queer beginners
The Frizu Lounge is also looking for cooperation with groups or individuals to forge ideas for projects during and after the pandemic, e.g .:
– (making) music in public spaces
– Connection of music and social / political issues
– Connection of music and theater, performance, etc.
– Online formats
Please contact: frizu@gmx.de – Tel: 030-34764918 – Mobile: 0176-20332076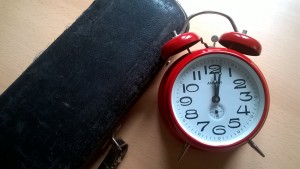 Those interested in LUNCHTIME_ORCHESTRA please contact us!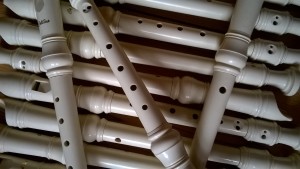 The RECORDER_INFERNO will take place at the "Workshop-Tag in der Frizu_Lounge"
It doesn't matter if you're a beginner, are returning to music, are self-taught, have some doubt about your skills, or are advanced or professional: make music with others in a comfortable atmosphere and get inspired!
Look here for the dates: EVENTS
The Frizu Lounge uses various rooms on the "RAW-Gelände", Revaler Strasse 99 in Berlin-Friedrichshain.
Exact directions can be found either in the announcement or after registration.
S-Bahn / U-Bahn / Tram M10, M13 Warschauer Straße. WHERE
Players of all instruments in all levels and singers are very welcome!
If there are any question, just contact me: 0176-20332076, 030-34764918, frizu@gmx.de. CONTACT