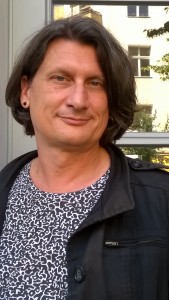 Malu Förschl
I took instrument lessons during my childhood—first recorder lessons and later clarinet and saxophone lessons. At the same time, I taught myself guitar and piano. I started to compose and write songs early on in my childhood. My musical taste runs the gamut from rock and pop (I also enjoy songs with German texts!), to singer-songwriters, chanson and classic German hits to free jazz and experimental music. I enjoy combining music with elements from theater and performance.
I studied education and music (music education with a focus on clarinet and saxophone), but I fought against an environment that strongly discouraged creativity, an environment dominated by normative conditions.
I have been living in Berlin and working with music, theater, performance and education on a freelance basis since 2001.
The FRIZU_LOUNGE is looking for other people who want to be active here.
Please contact: frizu@gmx.de, 030-34764918, 0176-20332076